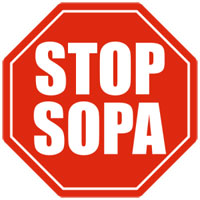 I do my best not to mix politics with my business, and hope to never have to do so again. However, there are currently 2 bills pending in the United States Congress that directly threaten every website, including both mine as well as my clients.
Brainwrap has gone "on strike" for the day, joining thousands of other websites small and large, including Wikipedia, Mozilla, Reddit, Wired, Craigslist and even Google in protesting the so-called "Stop Online Piracy Act" (aka "SOPA") and it's companion bill, the "Protect IP Act" (aka "PIPA").
This is NOT a partisan, left-vs-right political issue.
Opposition to these bills is widespread and bipartisan. President Obama and Democratic Senator Ron Wyden oppose it...as do Republican Congressmen Paul Ryan and Daryll Issa. Major partisan political website communities such as the left-wing Daily Kos *and* the right-wing Red State are in full agreement about how dangerous these bills (or any similar bills under a different name) would be to the entire internet.
These bills, if enacted into law, will do very little to "stop online piracy" or to "protect intellectual property". They would, however, effectively censor the entire internet, potentially resulting in your website being taken down through no fault of your (or my) own.
The idea behind the bills is to give the government the authority to shut down websites that enable piracy of copyrighted material such as movies, music, tv shows, photos and so on, and to prosecute those who are responsible for these websites.
The problem is that the way the bills are worded, media companies would have the power to shut down ANY website--including yours--simply by CLAIMING that they contain—or even LINK TO—copyrighted materials. Whether you knew it was infringing or not. In fact, whether it was true or not; the accusation itself would be enough.
Ironically, none of this would stop actual piracy sites, since anyone knowing the direct numeric IP address of the server would simply enter that number directly.
No one is saying that copyright infringement isn't an issue, but SOPA/PIPA—and any other similarly-worded bills that may crop up in the future under a different name—are NOT the solution.
What can you do about it?
First, learn more about SOPA and PIPA:
Next, contact your members of Congress to tell them you're opposed to SOPA/PIPA:
Spread the word via Twitter & Facebook