Submitted by Brainwrap on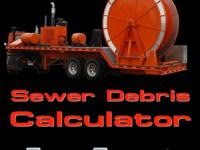 Brainwrap is proud to announce immediate availability of our second official Mobile App using the BrainwrAPPS® development platform.
Long-term website client Doetsch Environmental Services, Inc. hired Brainwrap to develop a mobile App to resolve a tricky, (very much) industry-specific problem. As a result, the new Sewer Debris Calculator App is now available on both the iOS (iPhone) and Android OS platforms!