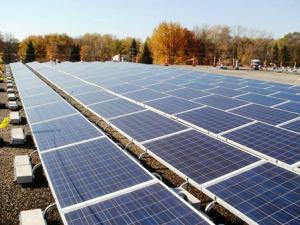 I'm very pleased to announce the following news from Brainwrap website client Mercy High School:
DTE Energy Solar Panel Array Installed & Operational on Mercy High Roof!
DTE Energy and Mercy High School signed a 20-year agreement in July 2011 that will provide utility customers with renewable energy generated from the sun. The solar array installation is part of DTE Energy's pilot SolarCurrents program which is one of the largest distributed solar programs in the country.

Throughout the fall a roofing company and DTE's solar panel installation crew worked tirelessly to get the system up and running before the beginning of 2012. The solar array is operational and began producing energy on December 28, 2011.

Mercy High School is the first private high school to participate in SolarCurrents and houses the largest roof mounted facility in the state of Michigan. The 400-kilowatt, $2.5 million photovoltaic system installed uses 125,000 square feet of roof on the high school. The solar array will be owned, installed, operated and maintained by DTE Energy. No Mercy High School funds were used to install or maintain this system. Mercy will receive an annual payment equal to one scholarship per year for 20 years. The school also received a one-time, up-front construction payment which covered any inconveniences during installation and indirect energy savings over time.
This sort of program makes an amazing amount of sense in so many ways; it's win-win all around:
The energy company gets a huge, ready-made, perfectly flat surface to install a huge solar panel array, without having to lease the land, without having to run electric cables/water pipes/other infrastructure out across miles of fields or wilderness, and without having to drive miles out into the boonies for service/maintenance, which saves them tons of installation/maintenance costs
There's zero negative impact on the local ecology/wildlife, since no additional fields/grasslands are being covered over or disrupted by solar panels
The school gets a huge positive PR bragging point about leading the way in clean energy production as well as a nice addition to their educational program (note the kiosk station where students can learn about efficient energy production using their own school as a live case study).
In addition they receive an upfront payment to cover any construction damage and free roof maintenance (I gotta figure that maintenance of the solar array pretty much has to include roof maintenance as well) without ever having to spend a dime on the upfront cost of installation or infrastructure themselves, which is always the biggest hurdle for people/businesses to deal with when considering solar panels.
I just can't begin to describe how geeked I am about this project, and how proud I am of Mercy.
As for the program, just think about how many thousands of acres of unused flat rooftops there are scattered around the country at other high schools, strip malls, warehouses, factories, etc. that would be ideally suited for this sort of solar array?